On the evening of my mother's arrival, everything seemed to start off easy. She touched down 30 minutes early at 2am and checked in with me. I passed the info along to the driver, who said he was still 10 minutes away. I warned my mom. 20 minutes later, she said she'd found the driver and was on her way. Fabulous!
30 minutes later, I get a message from the driver. He tells me no one is left in the baggage area and he hasn't met my mother. My heart skips several beats. I immediately reach out to my mom…
Wait… What? The driver says he hasn't heard from you…

Who are you with?

Mom??? Where the hell are you?




Several excruciating minutes later, she gets back to me. She's with the wrong driver. He also had a sign that said "Linda W." Meanwhile, the kinda driver I'd sent is pissed. He's up in the middle of the night at the airport with no fare. I was freaking out worrying where she was going and who the hell she was with. It was a small disaster.
My mom ends up at a fancy hotel I'd never heard of called Serena. I send my original driver there. Eventually she manages to get the right car and get to the apartment. It's 5am by the time she arrives, and it costs a small fortune, but she made it safe and sound. There was much rejoicing. Welcome to Africa, mom!
The next day we took it easy, really only venturing out to find my mom a watch. This ended up being pretty easy, as we were near the central market and major dolla dolla (shared taxi) stand, which absolutely exploded into activity during commuting times, which was when we went out. I warned my mom in advance to let me do the haggling when she spotted a watch to avoid paying the mzungu (white person) tax, but to perhaps our collective surprise, when she spotted one she liked, the seller quoted a price to low I felt bad for haggling. I got him down by a dollar anyways, then my mom paid him the price he asked for. We all left happy. To maximize the jet leg amelioration, we even ordered delivery for dinner.
The next day we took an uber to the bus station to get tickets to Arusha, where we'd begin a 5 day Safari I'd booked by wiring money to a dubious character I'd found on the internet (but who was substantially cheaper than the alternatives), and went out for a nice meal. Then we had one more day of taking it easy in Dar to stash my motorbike and my mom's extra bag, eat some discount sushi, and hit the sack early, because the next morning we had to be at the bus station by 5am. Thus began the first of many brutally painful all-day bus experiences.
Mashed in the rocking machine without a toilet, sweating, and exhausted, we bounced along for 15 hours, with only a couple stops to stuff food quickly into our faces and use the toilet, before we arrived at our backpackers in Arusha, our bodies and minds lightly poached. They'd made a mistake in our booking and lacked the room we'd booked, but with some hard negotiating, we were able to get two individual rooms for our original budget price due to their mistake. It was going to be another early morning being picked up in a Land Cruiser to start the next leg of our adventure. Mom was handling it all remarkably well.
We were picked up at 8am at our backpackers and taken to an office where we forked over the remainder of the price of our safari in a huge pile of cash. We were joined in force by a random smattering of strangers to fully fill the Land Cruiser and off we went. First stop: Tarangire National Park. Right off the bat, we saw monkeys, baboons, zebra, dozens of types of antelope, warthogs, giraffes, fish eagles, vultures, ostriches, and an army of elephants. We saw groups of hundreds of antelope migrating in force across rivers and through fields. We passed glorious baobab trees and miles of savanna. We saw an adult male lion alone with a tiny cub. At the end, we even stumbled upon a chaotic scene: a new elephant no more than an hour old, placenta still on the ground, bloody umbilical still hanging off, trying to take its first step surrounded by females, as a greatly aroused bull elephant tried repeatedly to mount the mother who'd just given birth and was chased away repeatedly by the rest of the group. It was a wild start.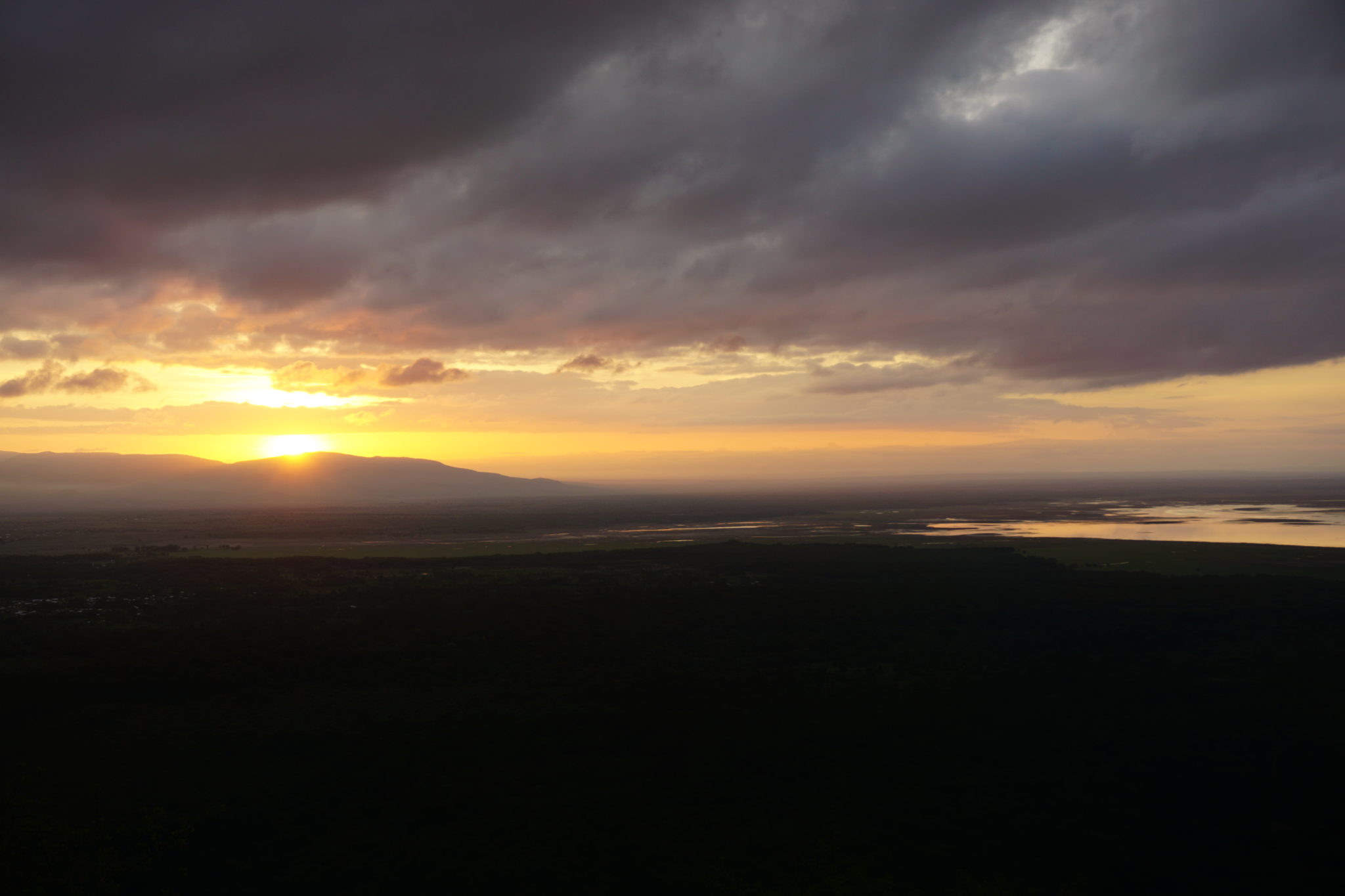 After a full day of park broken only by a mediocre bag lunch, we headed up a mountain to a beautiful spot called Panorama Safari Camp and Lodge, where we were surreptitiously upgraded to huts from tents, and my mom and I even got spots of our own. The spot overlooked Lake Manyara, and offered a gorgeous view of the sunset over the valley and lake below. We were fed a wonderful spread from the lodge, and after dinner a troop of local acrobats and performers put on a raucous show with juggling, stilts, dancing, drumming, and impressive acrobatic acts. My mom even got pulled in and laid down some moves on the dance floor.
The gang

Sometimes you gotta stop and sniff the butts

Maasai Momma

Monkeying around

"I know kung fu"
The next morning, it was once again time to pile into the Land Cruiser and head out. We descended the mountain, traversed some valley, then headed once again up to the lip of the Ngorongoro Crater, then down into Serengeti National Park. The steppe was teeming with life, with buffalo, zebra, and antelope herds extending off endlessly into the distance. The landscape itself was relatively stark, with a single dirt road cutting through a vast grassy plain. To add to our list were a smattering of hyenas, dogs, hippos, and a small group of cheetahs (one of which was roadkill on the road, a truly depressing site). At the gate, we stopped for paperwork and my mom got hang with some Maasai women and children. They seemed to find each other pretty interesting. Lunch was the same crummy box of food we'd be eating the next 4 days.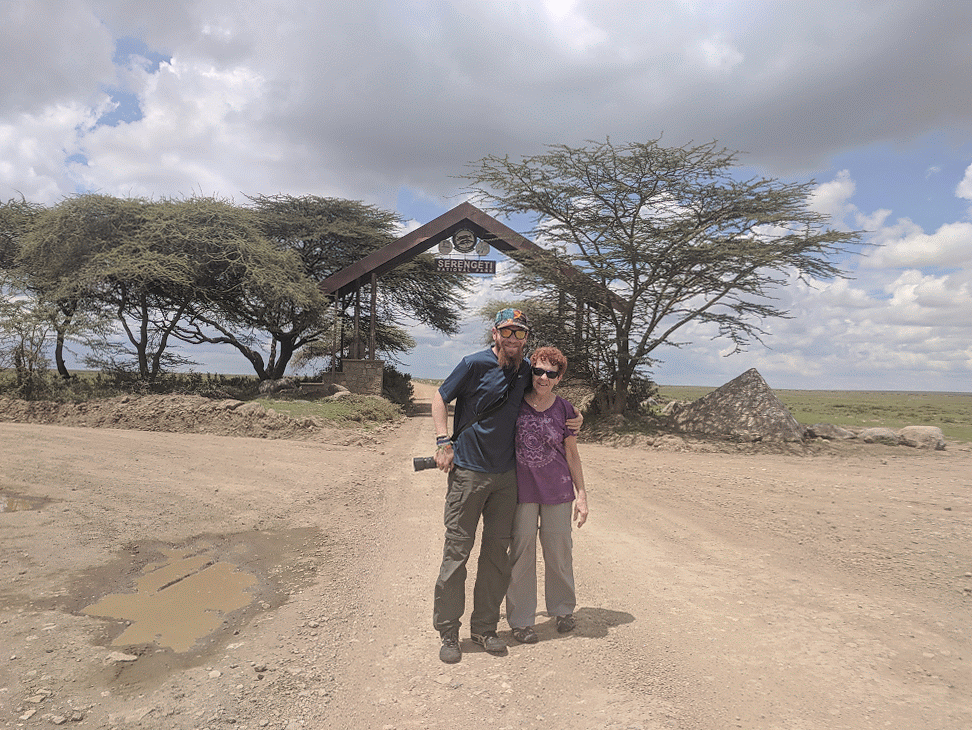 We eventually stopped at a relatively tranquil campground where my mom and I had our first of several nights sharing a tent. A handful of inscrutable Marabou Storks also shared our campground, looking like lunatic old men with unsettling unblinking eyes. There was more disappointing food.
The next day was literally a backtrack out the way we'd come in, with armies of animals marching on in all directions once again as we bumped painfully along the rough road. Our bodies ached from the cramped confines of the car and the constant effort to keep your head from being launched with the bumps into the steel ceiling. In the evening we pulled up to a campground overlooking the vast Ngorongoro Crater, offering a more exciting end to the day than the previous night.
The next day, we bumped our way down a long winding road and into the Ngorongoro crater, which is actually the world's largest inactive, intact and unfilled volcanic caldera. It's absolutely stunning, and like many of the parks, near the Olduvai Gorge, home to the earliest discovered evidence of homo sapiens, meaning the area has been inhabited by people for around 3 million years. Covering 250 square kilometers, descending into the caldera feels like entering a long lost and magical world. The early morning haze, coupled with fantastic visibility, resulted in a surreal landscape whereby the animals that dotted the landscape, frequently miles away, seemed to hover midair in murky space. Massive fig trees grow on the fringes near the walls of the caldera.
Here, we saw more buffalo, tons of zebra, a smattering of ostriches, packs of hyenas, and dozens of lions lazily prowling. We also stumbled upon a pride with distended stomachs still munching on the carcass of an enormous buffalo who'd managed to invite himself to breakfast as the main course. The surrounding scenery was as appealing as the animals.
After a full day in the crater, we trundled over close to Lake Manyara, stopping to buy some red bananas (which art short, fat, and other than the color of the peel, thoroughly banana-like), and bid farewell to most of the gang from our Land Cruiser who'd only signed up for 4 days to our 5. We once again got lucky and got beds in a room, and while this time there was no delicious food nor acrobatics show, there was a pool, and our backs were happy to not be on the ground. The next morning we hit Lake Manyara for our last day "on safari," which billed itself as where lions sleep in the trees. It wasn't long after entering the park that we saw that the advertising was accurate, and we came upon a tree packed with female lions, legs draped over branches, sleeping peacefully in the heat of the day.
Eventually we made it to a large wooden walkway (proudly paid for by Japan) over and onto a hot spring bubbling on one side of the lake. There we suffered our final round of boxed lunches before bouncing our way back towards civilization and a night once again in beds in an Arusha backpackers.
We had a full day of downtime in Arusha, where we did some haggling for clothing to replace the shirt my mom had lost, and for me to get a pair of shorts repaired. We also secured bus tickets to the next phase of my master travel plan: an eco-lodge deep, deep in the Usambara Mountains called Mambo Viewpoint. The route there was long and painful, and consisted first of getting to the Arusha bus station at 6am to board a large bus headed to the city at the base of the Usambara Mountains called Lushoto, which only took about 6 hours on what passes for a highway in Tanzania. Then we continued up a long and winding dirt road, the large bus careening through tight turns, through rain forests and farmland, eventually being dropped off another 6 hours later at a dirt intersection where we were met by a man in a truck who drove us the last handful of kilometers through wildly rough and beautiful mountain terrain to a lodge tucked onto an impossible cliff, offering a mind-blowing view of the surrounding area. Equipped with a tent, we were convinced to upgrade to a hut of our own. Buffet meals of local, organic, fantastic foods were offered and we were happy to indulge. The owners and staff were all phenomenally friendly and hard working people bettering the area. My mom was in love.
The Usambara Mountains are often referred to as the bread basket of Tanzania. Home to the densest population of people in the country, nearly all work as subsistence farmers, growing an enormous range of produce in tiny terraced plots covering the rugged landscape, and taking advantage of the rich soil and extremely high rainfall. Remote areas of the region still have ancient virgin rain forests, though they're being increasingly encroached on from the dense population. We hired a guide from the lodge to take us on a hike through town the day after we arrived, and one of the neighboring rain forests and waterfalls the next day. At the end of the second day, we were treated to another acrobatics performance, this one put on by local kids who were being trained by Mambo Viewpoint. It was adorable.
After two days of wearing out our legs to match the rest of our bodies, and thoroughly enjoying introducing my mom to a slower, pastoral African setting than the cities, it was time for the final phase of my great motherly travel plan: relaxing on the beach in the fabulously-named Zanzibar. Some incredibly friendly locals who happened to be passing through the lodge with a European girl who'd been working with them offered to greatly improve our lives and drop us off in their 4×4 at the Lushoto bus station, saving us nearly 4 hours of nightmarish bus travel, and at 8:30 in the morning, we were off. We had an hour to kill at the bus station, where we miraculously managed to get a damn fine cup of local coffee, and then had a 6 hour bus ride back to Dar es Salaam, with a long painful stop to deal with a tire blowout on the outskirts of town. By 6, we were situated back at the Hunch Backpackers for my mom's first night ever in a proper 12 bed dorm room.
The next morning we were up and off to the ferry terminal by 8:30 once again. By late morning, we were lugging our bags over to another dorm room in downtown Stonetown, the beautiful old city on the west coast of Zanzibar. Once checked in, we spent the day wandering through high and narrow ancient alleys, drinking frozen drinks, and scoping out the markets.
Finally the next morning, it was properly time to head to the beach. I'd booked us a bungalow near the beach on the outskirts of a popular tourist town on the north coast called Nungwi, and rather than pay for an expensive private car, we tracked down and hopped in one of the shared minibuses (dolla dollas) for about a buck a piece. We got dumped a mile away from our destination, and the going was tough through mud and huge puddles of water given my mom's enormous rolling luggage. Eventually, she happened upon a local who stuck the ungainly thing atop his head and ported it over, greatly alleviating my bellyaching. We were checked in in early afternoon and greeted by beds with friendly messages written out in leaves. The excitement for a few days of beach relaxation was palpable.
We traded our walking shoes for flip flops and hit the ocean, wandering down the perfect silken white beaches, wading out into the water, and enjoying a western-ish meal under umbrellas, next to monkeys, and to the sound of the waves. We watched a glorious sunset with our toes in the water.
Three days of beach bumming came and went quickly. Our batteries were blissfully recharged. Then, sadly, it was time to head back to reality, which for us was another big day of travel: a dolla dolla to Stonetown, a ferry to Dar es Salaam, and a car back to Hunch Backpackers. It took over 8 hours door to door. Another motorcyclist had showed up in our absence, this time a South African guy on a BMW F650. My mom and I had dinner then wiled away the night playing Jenga (which was made by a Tanzanian guy, and is the Swahili word for build) with fellow hostel-dwellers followed by a tearfilled sendoff. I was back on my own.